The Northern High School Music Boosters Organization is offering two $1,000 scholarships to graduating seniors of Northern High School for a one-year period according to the following criteria.  All applications will be assigned a number for review purposes.
All components of the application must be submitted in one package (application, letter of recommendation) to Mr. Sheffer no later than April 15, 2021.

Each Candidate must:
Have participated for a minimum of two (2) years in a Northern York School district high school music program. This includes, but is not limited to: Concert Band, Wind Ensemble, Orchestra, Chorus, Marching Band, Indoor Percussion, Indoor Dance, Indoor Guard, Musical, and Bear Singers.

Be accepted into (or applied to) an accredited institution in an appropriate Associate's Degree or Baccalaureate Degree Program.
Plan to attend accredited institution on a full-time basis.
Have a grade point average calculated at the end of the 2rd marking period of the senior year, that includes:

An overall "B" average in high school.

An "A" average in all music classes or music ensembles, if appropriate, during high school.
Submit at least one letter of recommendation.
The monies may be applied toward tuition, student activity fee, course-related supplies, course-related equipment, and course-related books.  Award of the scholarship monies will occur after the recipient presents receipts at the end of the first semester that demonstrates attendance at an accredited higher education institution on a full-time basis.  If receipts are not presented, the award money will not be distributed.
Letters of recommendation must be from a teacher, counselor, minister, civic leader, or the head of a volunteer organization in which the applicant is active.
Incomplete applications will not be considered for a scholarship.
PAST WINNERS

| | | |
| --- | --- | --- |
| Year | Recipient | Scholarship |
| 2016-2017 | Leah ReDay | $500 |
| 2017-2018 | Hannah Gricks | $500 |
| 2018-2019 | Bri Hertz and Isaac Staats | $500 Each |
| 2019-2020 | Rachel Ford and Mia Miller | $500 each |
RACHEL FORD  is a freshman nursing major at Messiah University. She does not have much spare time for involvement in clubs and activities because of the Nursing major workload. However, she is involved in the Messiah Democrats Club and has recently joined the Messiah Women's ensemble. Rachel is a member of the Messiah University Honor's College. While on campus, she enjoys spending time with her friends going on walks and hammocking. While at home Rachel loves to spend time with her family and play with her dogs. Rachel is very thankful to receive the Northern Music Boosters scholarship for the class of 2020.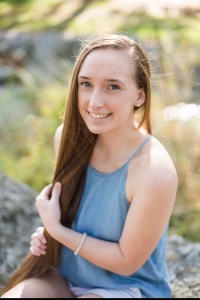 MIA MILLER'S first semester at WVU was great despite it being very different from a normal freshmen experience. I am majoring in music therapy and have already learned so much. I'm really enjoying my music therapy courses. I am currently taking piano and guitar classes, along with a 16-voice women's choir I auditioned for which we will start rehearsing in the spring semester. I made dean's list and I hope to keep the same energy for the spring!  Thank you to the Northern Music Department and Music Boosters for giving me the environment and resources to thrive in my music career.